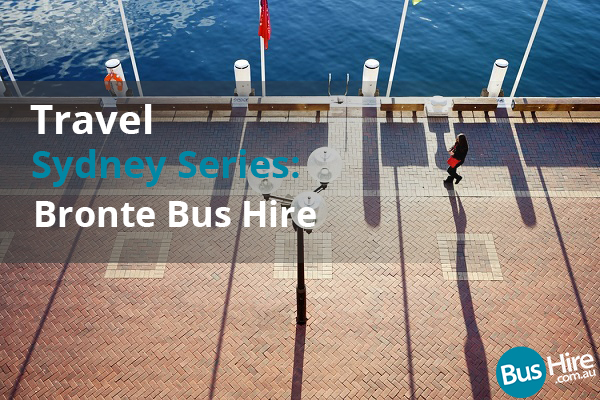 A large part of the economy in Sydney is dependent upon tourism. So, it comes as no surprise that there are a plethora of sites and attractions for visitors as well as a multitude of favourites of the locals. With Sydney Tower, Luna Park, Mardi Gras, the Opera House, and more, you will never lack for something to do while visiting Brontë. And don't forget that if you need transportation affordably and conveniently, you can check into Bronte bus charter. Happy travels!
Traveling with Your Dog? Check out Brontë Beach
A lot of people travel with their pets these days. And because Brontë Beach allows dogs, this comes as good news for some pet owners. In fact, if your dog needs some exercise, there is no place like the incredible corridor at Brontë Park's Brontë Gully. Daily, between the hours of 3 PM and 10 AM, your dog can even be off leash. Other places to walk or exercise your dog in or around Brontë include Marks Park, Queens Park, Waverly Park, Hugh Bramford Reserve, Dixon Park, Diamond Bay Reserve, Raleigh Reserve, and Varna Park. Of course, if you don't have a dog, Brontë Beach is still a great place to visit when traveling through Brontë.
If you really want to have some fun, and your dog wants to have fun as well, here's a novel idea. A little place called Brew Dog has just fittingly launched a craft brew for dogs! It is, obviously, non-alcoholic.
Brew Dog
Bring your dog, don't bring your dog; just make sure you stop in for a craft beer. Though they've earned lots of attention for their new craft beer for dogs, they are still known for their lagers and yeasty ales for humans. Clearly, Brew Dog loves their firsts. Their first Australian brewery was Brisbane; they're responsible for the world's first craft beer airline; and they have the distinction of the world's first craft beer hotel!
So, go ahead and bring your furry, four-legged friend in for a Subwoofer IPA after running them around the beach or the park. And while you're at it, you might as well grab a pint for yourself.
Bondi to Brontë Walk
Now that you exercised your dog, it's time for you to get a little exercise. Included in this 1 ½-hour, 2.5 km walk (that's only one way), are Mackenzies and Tamarama Bay. In all of Sydney, this walking trail is one of the most iconic. It offers breathtaking views of coastal cliffs and the South Pacific Ocean. You will walk right to the top of the ocean between two of the most famous beaches of Sydney along sandstone cliffs. It is not uncommon, while standing at one of the supreme vantage points, to view dolphins and whales. If it hasn't already had enough exercise, your dog can come along with you if it stays on its leash. Free parking is limited and, on busy days, fills up quickly.
Badlambs
Where but in Sydney could you get your hair cut, listen to live music, and shop for treasures and bric-a-brac all in one place? Badlambs, located near Bondi beach on Glenayr Avenue, is the brainchild of hairdresser Tony Mellis. Tony has cut hair in contexts from Adelaide Arts Festival to Edinburgh's Famous Spiegeltent. In one of London's upmarket areas, Bloomsbury, back in 2001, he set up his own salon. He moved to Australia more than a decade later and packed his business complete with children's, women's, and men's hairdressing techniques. As suggested, however, there is more than just a haircut waiting for you at Badlamb's. Local artworks, bric-a-brac, and an amazing collection of antiques make this little stop a memorable one.
Beautiful Pages
Looking for a book to take to the beach? In nearby Darlinghurst, on Oxford Street, you will find Beautiful Pages – with an emphasis on design, this is one of the best boutique bookshops around. Yes, you'll have to travel a little way from Brontë, but this will allow you ample opportunity to take in Sydney for all it's worth. Tiana Vasiljev started out curating some of her most liked design publications through an online store but decided on this Oxford Street brick-and-mortar location around 2011. She now curates magazines and books of a wide selection. The focus, though extensive, is on typography, fashion, graphic design, architecture, interior design, art, and more.
Brontë Park and Miniature Train
Across from the beach, Brontë Park is the ideal place for sunshine and unwinding. But, running since the 1940s, the iconic Brontë Kid's Train also calls this Park home. Best of all, riding the train costs only five dollars. It's a great distraction for children, or children at heart, and runs daily during the holidays in summer and spring and is open every weekend.
Brontë House and Gardens
Dating back to approximately 1845, this beautifully Gothic style building is close to Brontë Beach. English ex-pats Georgianna and Robert Lowe were in search of a climate that was sunnier. This is where they ended up. Currently, however, it is leased out to private tenants by the Waverley Council. Here you will find a miniature rain forest, rocky gardens, fountains, an array of ponds, and plant life that is bursting with colour. However, you may not get a chance to see this amazing site because it is only open to the public for four weekends a year. So as not to miss out, make sure you plan ahead.
Waverly Cemetery
No, we are not trying to be morose. But this is another great place to get away from the crowds of Sydney and get an awesome cliffside view of the Pacific. The place itself is beautiful and interesting, much of it dating back to 1877. Italian mausoleums, statues, and Victorian monuments abound. On the entire stretch of coastline, this is one of the most breathtaking and intriguing locations.
Compared to Tamarama or close by Bondi, Brontë is more family oriented. If you want to separate yourself from the hectic life of Sydney, Brontë is the perfect place. Plan a family day of relaxation or enjoy the growing café culture – all in a stunning setting. Or check out the hotels and spend some real quality time. Remember, when you use Bronte bus hire, you choose to travel without the hassle of juggling maps or figuring out your GPS, and concentrate on sightseeing.