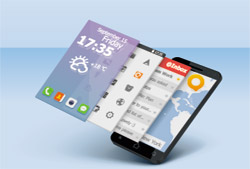 It's just amazing what technology has done to the travel industry. With the huge rise of mobile technology thanks to smart phones and tables, means there a gigantic amount of resources for pretty much any task we can conceive, the travel industry has certainly received a lot of new tools and applications that helps us traveler accomplish much more in a shorter period of time so we get to travel more. Yay!
We too love to travel, and specially, we love creating unforgettable traveling experiences for our customers. Always remember you can send us an email with any of your travel questions, we are the local experts here in Australia and will always enjoy the challenge of tailoring the perfect travel experience for you, your family, friends or business group.
Let's start investigating some mobile applications that will ensure your next trip goes smoothly from beginning to end, and even when it doesn't, we are going to make sure you have some digital tools to cope with those situations too! Here are some of our picks:
TripIt:
Because planning should be the first step of every trip, let's begin our list with TripIt, an App that promises to take care of your schedule so you don't have to! Apart from automatically creating schedules based on your confirmation emails, it will also begin helping you by finding and suggesting entertainment venues near you, travel tips and
This app will recognize and add itinerary data for pretty much every booking engine out there, whether airline, hotel, car-rental or restaurant reservations, TripIt will keep all that info neatly arranged for your convenience, and if it missed anything all you have to do is forward that information to the App, TripIt will do the rest!
Kayak:
Book your tickets on the move directly with this awesome and useful App. I even use this one myself, it is simple, intuitive and works perfectly and I tell you more, for a mere 99 cents you can by the PRO version for the iPhone as-well. Add this to the fact you can also rent cars and hotel all from the same platform, and you truly have an incredibly powerful tool to aid you in all your travels.
A really cool feature that should be mentioned is that when another website or tour provider has a better deal than Kayak can offer you, the app itself will notify you of that! In case you are a visual user, you can always use the Kayak Explore feature, which lets you choose your trip according to interactive world map that displays the exact price for each destination available. Try it! Is really fun and useful 🙂
Uber:
Ok, it is indeed true this particular app has received quite a bit of bad press as governments are actually trying to take it down. That said, do keep in mind the only reason they are trying to censor the travel app is because it's so good (providing quick transport at the cheapest price) that big companies as-well as the government are loosing money, but it is truly the best option for the consumer 🙂 So we like it!