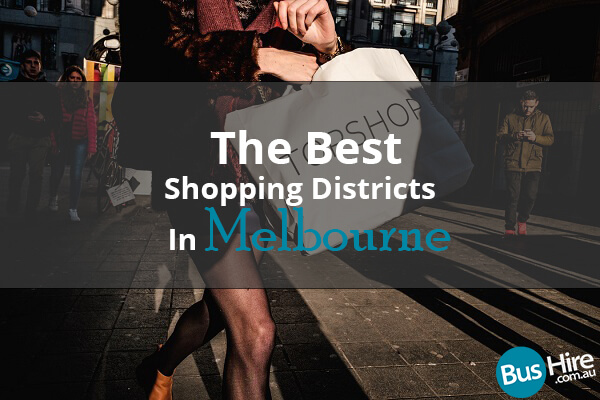 Known as the coastal capital of the state of Victoria, Melbourne is the home to one of the most modern developments in the whole of Australia, the Federation Square. Apart from this infrastructure, it is also known as a city where you will find a variety of shopping districts that are popular with both tourists and locals alike. When visiting these districts, make sure that you book
bus hire in Melbourne
for your convenience, especially if you are travelling in a group.
Gertrude Street
This street in Fitzroy is home to the many different boutique labels Melbourne is known for. You will see the streets lined with shops owned by the best local designers in the city. The shops are specifically located in a little street connecting Smith and Brunswick. You have a wide assortment of choices depending on what you love including black-coloured garments at Handsom, graphic printed tops and dresses at Leonard Street and femme finds at Megan Park. You will truly be amazed by the creative minds of these designers that there is something to bring home with you once you get to visit these shops.
Collins Street
When you are looking for more high-end labels for a wide array of clothing brands, you will easily find them in Collins Street. Also known as Paris end, the street is home to the most popular international brands like Hermes, Dior, and Louis Vuitton. You will also find stalls that sell Prada, Chanel, Gucci, and Ralph Lauren. For those of you looking for a shoe that speaks Paris fashion, you will easily find one at Collins with the likes of Dolci Firme and Miss Louise.
High Street
Lining the paths of High Street in Armadale is a variety of shops where you can look for your wedding day or event dress. You will find the names Zimmerman, Camilla and Marc, and Tharley among the names located on the east-side boulevard. If you want a more minimalist take of your big day, you can see the likes of Threads and Ryder, Aje and Skin among your choices. You can also find your dream wedding dress from the shops of Rachel Gilbert and Karen Willis Holmes, also found in High Street.
Bridge Road
For those of you looking for more retail outlets where you can do some shopping, a visit to Richmond's Bridge Road is recommended. You can get the latest fashion finds from the different shops along this road or save more for last season's clothing stocks. A long list of names lining this street is Country Road, Alannah Hill, and Gorman.
Sydney Road
If you are looking for vintage clothing superstores in Melbourne, you will get one at Savers. Located at Brunswick's Sydney Road, this side of the city also has a lot of little stores where you can buy pre-loved clothing items. You also have the chance to earn by selling your old clothes through Recycle Boutique. Brunswick Style, on the other hand, is your go-to if you are looking for retro-inspired wardrobes.
Chapel Street
This spot located in Yarra is the home for high end street fashion where you will find clothing, shoes, and accessories lining the street. Among the brands carried by the different stores in this corner of the city are Kookai, Sportsgirl, and Witchery. There are also higher-end shops in this busy street which includes Zomp, sass & bide, and Alice McCall.
Chadstone
The suburb of Chadstone is home to Chadstone Shopping Centre, a perfect place where the entire family can have a great time while shopping. Promising to be your ultimate retail therapy, you get a vast array of choices including popular designer stores like Louis Vuitton, Chanel, and Prada as well as department store staples like Kmart, Target, David Hones, and Myer. There are also technology stores here like Apple, and JB HI-FI as well as specialty stores like Seed and Aesop.
Melbourne Central
If you are looking for plenty of shopping centres within the one-kilometre CBD radius, you will find them here at Melbourne Central. This centre showcases over 300 specialty shops that include Hoyts, SABA, and Sephora among the names that will ring a bell. It is just a few walks away from the Bourke Street Mall and Melbourne Emporium. It even has its train station which is named after it, thus known as Melbourne Central Station. A visit to this spot will surely be a delight because you also get to see the Shot Tower, one historic infrastructure that Melbourne prides itself of.
Yarra River
There is this underground bunker, believe it or not, along the non-city side of the Yarra River which serves as a home to the DFO South Wharf. This is the perfect place to look for bargain clothes. You can simply fish for a clothing you want from the rack. Make sure that you will find time visiting the more than 100 different stores in the area in order to get the best bargain.
Other Shopping Places in Melbourne That are Worth a Visit
Apart from the ones mentioned above, there are a lot of shopping centres spread around Melbourne which are worth visiting. Get the best bargains at the Spencer Outlet Centre, located just right next to Spencer Street Station. There is also the Docklands' Harbour Town Shopping Centre where you will find different outlet centres. You can also get everything under one roof if you choose to visit the Westfield Southland, or Westfield Doncaster Shopping Centre. These shops are located about 40 minutes away from the city.
It is with no doubt that Melbourne is filled with a wide array of shopping options that will delight tourists and locals alike. Whether you visit the suburbs or get a chance to find under a rock, you will be able to get the item that you are looking for. There are also a lot of unique finds along the city laneways with hidden treasures waiting to be discovered by every shopping enthusiast out there.