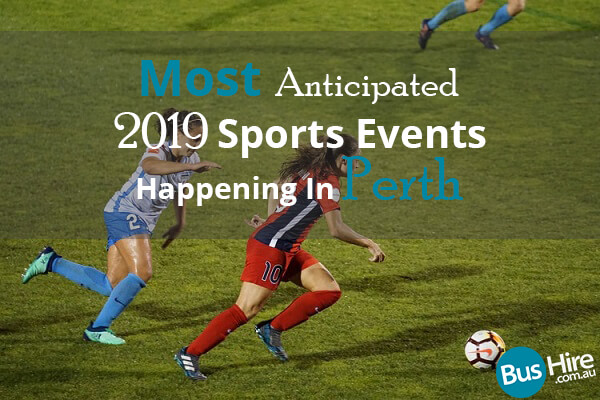 Are you planning a trip to Perth in the near future? Are you a sports aficionado? If so, there are numerous opportunities in Perth to catch sporting events. Do yourself and your friends a favour and look into
bus hire in Perth
for all your transportation needs. Not only can you start partying ahead of the game, but you can relax and enjoy a stress-free ride home after the game. Let's see what kinds of sporting events will be taking place in Perth for the 2019 season.
2019 Bledisloe Cup
August 10, 2019, from 4 AM to 8 PM
This is your chance to enjoy lively entertainment while indulging in beverages and premium food for an entire afternoon. Rugby legends Josh Kronfeld, Tim Moran AM, and Mark Ella AM will be adding their special insights throughout the occasion. Joining them will be Raelene Castle ONZM.
For the first time ever, Perth will host the clash between the New Zealand All Blacks and the Wallabies. This will be one incredible day of celebration while attendees show their support for their favourite team. In addition to the rugby match, The Long Lunch takes place in the Art River Room, at Perth's Optus Stadium. This is the perfect opportunity for fans to get together and socialize in a quieter atmosphere than at the game. Those who attend the lunch can determine which rugby organization or club they want the proceeds from the table booking to go to.
Hospitality packages are available, and the purchase of certain packages will allow ticketholders early admission (2:30 PM – Gates Open time). These hospitality packagers are going fast, so don't put off purchasing yours.
Bentley Polo in the Valley
Saturday, April 6 from 11:30 AM to 5:30 PM
This will be the 10th anniversary for Bentley Polo in the Valley, and it is bigger and better than ever. At Swan Valley's Duncraig Stud, attendees will be treated to a thrilling game of equine polo as the best international and Australian horsemen compete. The Youth Focus and
Telethon will be the beneficiary of money raised at this event.
There are various hospitality packages available that offer ticketholders extended enjoyment such as luncheons, lounge areas, champagne, and more. These tickets are limited, so do not hesitate to buy yours.
Package names include the following: Picnic Bay, Polo Lounge, Telethon Marquee, Youth Focus Marquee, and G.H. Mum VIP Marquee – each having its own benefits.
Mullaloo Triathlon
The race location and transition point for this triathlon begins from Mullaloo Beach, Tom Simpson Park. It will be the fifth running of the Northern Beaches of Perth long triathlon course. Enter as a team or as an individual – or just come to watch.
Entry levels are as follows:
Open Water Swim – involves 1500m or 750m, ages 12 and over can participate
Standard – involves 10km run/40km bike/1.5km swim, open to corporate teams, sporting clubs, family, relay teams, and individual athletes
Short Duathlon – involves 5km run/20km bike/2km run, individual senior and junior 14 to 19-year old athletes can participate
Sprint – involves 5km run/20km bike/750m swim, individual senior and junior 14 to 19-year-old athletes can participate
Novice and Junior Bolt – involves 2km run/10km bike/250m swim, Junior elites, 16 to 19-year-old, juniors 12 to 15, and all novice athletes can participate
There will be lucky prize drawings for Halo Headbands, Sunwise Sunglasses, Funky Trunk and Funkita accessories, and more.
Everyone that finishes a race will receive a metal. Open category prizes are as follows: male and female fifth place, $50; $75 for fourth place; a medal and $100 for third place; a medal and $150 for second place; and a medal and $200 for first place.
State of Origin Game ll
Sunday, July 23 at 5:50 PM
Located on Victoria Park Drive, Perth Stadium will host State of the Origin ll's epic rugby event. This will only be the 10th time in the history of State of Origin that a section of the series has been played outside Queensland or New South Wales.
Tickets are in exceptionally high demand, so do not hesitate to get yours immediately. This is arguably Australia's biggest sporting rivalry! Proudly sponsored by McGowan Government through Tourism Western Australia, the Queensland Maroons and NSW Blues are set to clash.
Millions of fans will be watching the game on television, and anticipated numbers of fans making the excursion to the event are anticipated to be in the thousands. Couple the excitement of this game with the chance to travel to Perth and you have a winning combination. There is a strong appetite for Rugby League among Western Australians. And the popularity of rugby is growing by the day.
There are few better ways to show off the transformation of Perth to fans, officials, and players.
Note: There is also Holden State Of Origin ll taking place at Perth Stadium on June 23 if you love your rugby.
Manchester United Versus Leeds United
On Victoria Park Drive, at Perth Stadium, one of the greatest football teams in the world, the Red Devils, gets to show off. It may have been a bumpy period thus far, but come cheer them on in style. The Red Devils have finished pretty consistently within the top five, but since 2013, have not managed to be victorious.
Can't get enough football? There are numerous opportunities for the avid football fan, some of which will be taking place at HVF Park, more opportunities at Perth Stadium, and WACA Ground.
If you have never before experienced a sporting event in Perth, Australia, there is no better time than the present. There are still many events taking place this year. And there's always next year for an event that you may have already missed. Be sure to use bus higher in Perth for the transportation of you and your friends. Why experience the hassle of strange roads, crazy traffic, and more, when you can simply leave the driving up to a professional transportation expert? And above all else, enjoy your time in Perth.