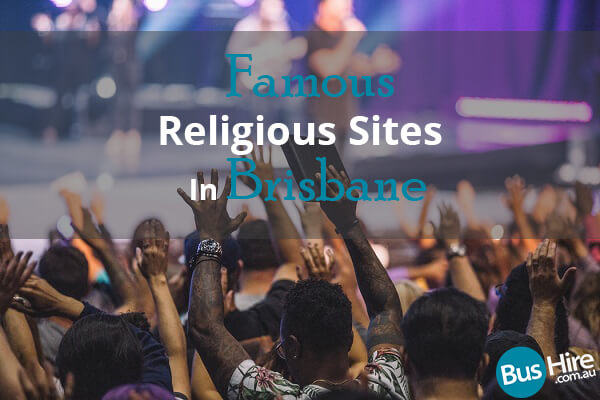 There are plenty of religious denominations represented in Brisbane. In fact, the 2016 survey made by the Demographics Resources in Australia, recorded Western Roman Catholic as the largest religious group in the city. This was followed by Anglican, Uniting Church, Christian, and Presbyterian & Reformed in the top 5. As an evidence of the various religious denominations of the people of Brisbane, you will find many different religious sites in Brisbane as well. Make sure that you use
Brisbane bus charter
to get to discover all these religious attractions.
Langri Tangpa Buddhist Centre
Where you will find it: 535 Old Cleveland Road, Camp Hill QLD 4152
A centre that is opened to everyone who is interested to change their lives spiritually while also making theirs more meaningful, this Buddhist Centre in Camp Hill is a go to place for those wanting some time to reflect and meditate. Classes in yoga, Buddhist thought and practice, emotional balance, and mindfulness basics are among the services offered at the centre. It also has a new addition to its list of classes, with the 'Heart of Wisdom Sutra' taught by Eddie Peet. Of course, the centre is also made ready for those who want to discover more about Buddhism and its history.
St. John's Anglican Cathedral
Where you will find it: 373 Ann Street, Brisbane QLD 4000
St. John's Cathedral is more than just a place of worship for the people of Brisbane. It has also been opened to those who want to enrich their respective spiritual journeys. This renowned Brisbane landmark has increased its popularity because anyone who goes there will get to know the place better, have a special place for retreat, as well as converse with others and learn altogether while also celebrating events that the cathedral hosts for its locals and visitors.
This place has taken tourists as well as locals in awe of its 19th century Gothic-revival architecture with sandstone columns and arches making it look breathtakingly beautiful. The wood-carved Archbishop seat and choir stalls are complemented by needlework cushions as well as the stained-glass windows around it. There is also a series of organ recitals being held in the church. You might be able to catch one during your visit to Brisbane. There is a souvenir shop awaiting you when visiting the church.
St Andrew's South Brisbane
Where you will find it: 160 Vulture Street, South Brisbane QLD 4101
This Anglican Church in Brisbane is a picture of the reason why churches are formed – that is to encourage one another to live their lives as Christians while helping the Christian community grow. Set on a laidback and serene landscape, the church's interior is a spot that every visitor will appreciate. There is a rose stained glass window on its centre. It also has heritage-listed buildings that can serve as a venue for your event – whether it is a meeting, a conference or a banquet.
Good Shepherd Baptist Church
Where you will find it: 185 Old Northern Road, Albany Creek
The Good Shepherd Baptist Church welcomes everyone who wants to experience its ministry. More than just a place of worship, the church grounds also play host to a series of events. On December 23, 2018, Carols at the Park, an event sponsored by the Church will be held at the Jacaranda Park in Albany Creek. There will be free activities, free sausage sizzle, and fantastic rides for everyone on the said date. On a regular basis, there is also a nursery on this place where you can leave your child under the care of their highly qualified leaders while you attend church service.
Cathedral of St. Stephen
Where you will find it: 249 Elizabeth Street, Brisbane
A living witness to the ups and downs of many Catholic families, the four corners of the Cathedral of St. Stephen is your place of retreat, no matter what you are going through in your life at the moment. Located at the heart of Brisbane's Catholic Archdiocese, the cathedral is situated near other structures that you can tour right before or after you have visited the cathedral. You will find the St. Stephen Chapel, the Parish Offices, and the Francis Rush Centre within the precinct. An added attraction is the Cathedral's Jubilee pipe organ which was blessed in 2000 by then Archbishop John Bathersby.
Ann Street Presbyterian Church
Where you will find it: 145 Ann Street, Brisbane
Considered the oldest functioning church in the city of Brisbane, the Ann Street Presbyterian Church was founded in 1849. This Bible-based church is open to those looking for a place of worship during Sundays. Of course, you will also find delight in the different events that it hosts all-year round. Among the upcoming events that you can include in your itinerary are 'Together for the Gospel with Kevin Deyoung' on November 25, 'Celebrating David and Ruth' on December 2, and 'Seniors Christmas Connection' on December 6.
Fo Guang Shan Chung Tian Temple
Where you will find it: 1034 Underwood Road, Priestdale QLD 4127
People from all walks of life are invited to come and visit this Buddhist temple. Situated between Brisbane and Logan City, this is one of the most prominent religious architectures that you will see in Australia as it is a perfect picture of what traditional Chinese Buddhist architecture is. Since its completion in 1992, it has also played host to a variety of activities which includes the Buddha's Birth Day Festival which is held every first weekend of May. There are also wellbeing programs being hosted by the church.
St. Andrew's Uniting Church
Where you will find it: Corner Creek & Ann Streets
This church is considered one of the largest Presbyterian congregations in Australia. The structure's completion in 1905 did not stop the community from preserving it and in making sure that there is a place for worship that Presbyterians can go to. Patterned from a combination of Romanesque and Victorian styles, the mix of concrete and brick for this building is even made more magical by the semi-circular, arched windows on its walls. Cruciform plans, internal-domed ceiling, and the large fine organ are also parts of the magnificent structure.