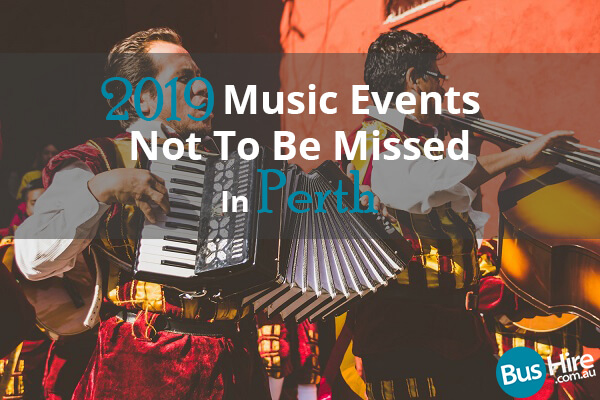 With sandy beaches lining its suburbs, Perth, the capital of Western Australia, is definitely mesmerising. Its captivating views plus its towering infrastructures will surely leave anyone in awe during a visit. Apart from all these spectacles, however, you can also enjoy festivities in the city all-year round. Here is a list of music events happening in Perth this 2019. Do not forget to book
bus hire in Perth
to save you from the hassles of public transportation!
Paradigm
A musical event that happens in all of Australia, Paradigm is coming back to Perth, at the Badlands Bar, on March 31, 2019 from 3:00pm to 10:00pm. Several legs of the event are happening in other parts of Australia, including Brisbane, and Sydney, amongst others. The electronic vibe of the music scene is showcased by event organisers. Everyone is welcome to party and enjoy the wild ride like never before. The Perth line up incudes Factor B, Cold Blue, and John O'Callaghan, amongst others.
Dave Warner Live
Happening at The Backlot Studios along Simpson Street on April 5, 2019, this is the best time to get up close and personal with this star. This is a musical event like no other. Dave Warner will not just use his music to attract you to come and join in the fun. You will also be getting insights about his life and career. Food and drink will be served in the bar, while you sing along to the music of this 1960's music icon.
Booka Beats Fest
Brought to you by Drug Aware, the Booka Beats Fest is part of the Youth Week celebration of the City of Wanneroo and the City of Stirling. Featuring T$oko, Rivaboi, Hyclass, and Downsyde, this drug-, alcohol-, and smoke-free event targets audiences from the 12 to 25 crowd. It will be happening at the Mirrabooka Open Space on April 18, 2019 from 3:00pm to 7:30pm. Food trucks will be available around the venue so that you can fill your stomachs up while enjoying the rest of the festivities.
Cousin Tony's Brand New Firebird
Cousin Tony's, a popular live band whose last tour included a series of sold out shows, will be having an extensive run across the country. The group will be in Perth, at Lucy's Love Shack on April 20, 2019 from 7:00pm to 11:00pm. The band will play their debut from their second album "New Romancer". The song entitled "Love is Heartbreak" is an indie-pop rendition with lyrics presenting one's road from heartbreak to recovery. Anyone who was, is, and is planning to be in love can relate to this event. From Australia, Cousin Tony's will be off to UK and Ireland in May.
Pure Perth
If you are a techno events lover, attending the 2019 Pure Perth on April 21, 2019 at the Claremont Showgrounds is a must during your holiday. The line-up includes Eric Powell from Bush, and Carl Cox from Intec. House music DJs from Italy like Marco Carola, Enrico Sangiuliano, and Joseph Capriati will also be part of the occasion. This show is open to dance music fans from the more matured age group.
The Big 80's Party
Looking for a music event that will take you back in time when the likes of Madonna and Michael Jackson were dominating the music scene? The Big 80s Party is the best venue for that. To be held at the Oakover Wines in Swan Valley on May 11, 2019, this is the best time to soak up the summer sun whilst enjoying the music brought to you by retro DJ's and the LIVE BAND 80's Inc. Make sure you come in your 80's costume attire. Gates will open at 2:30pm on the said date and will close at 10:00pm. The party is open only for adults 18 years old and above.
Sevendust
The 2016 Grammy Nominated Artist for their song "Thank You", is bringing their talent back to Australia and New Zealand this coming April 2019. In Perth, the group will be having a show along Murray Street's Capitol on April 30 from 7:30pm to 10:30 pm. Presented by 24/7 Metal and Rock Station and MJR Presents, the group is coming over to celebrate the release of their record "All I See Is War". They will also be visiting Sydney on April 26, Melbourne on the 27th and Adelaide on the 29th before they head on to Perth.
Hdyfest Global Warning Tour
You read that write. This is a global warning tour brought to you by Flosstradamus. Happening at Villa Nightclub along Sterling Street on May 11 and 12, this two-day event has different schedules. On May 11, party starts at 10:00pm while on May 12, it will start at 1:00pm. For ticket inquiries, you can visit hdyfest.com.
Circles: The Winter Tour
Happening at Badlands Bar on July 20, 2019, "Circles: The Winter Tour" is presented to you by HEAVY Magazine, Wild Thing, and Bear Parts Music. The Perth leg is part of the Australian and New Zealand tour of the band for the months of July and August. This is a perfect time to launch their new music video entitled "Winter" from their album "The Last One". They will be performing together with Wild Thing Talent the City of Souls.
WA Classical Guitar Ensemble Festival
The Classical Guitar Society of Western Australia, along with WA Department of Education's Instrumental Music School Services will present to you its 31st ensemble festival showcasing the talents of guitarists from Western Australia. The aim of the show it to contribute to cultural and artistic enrichment in the community, whilst also fostering camaraderie amongst participants. This will be taking place at the Carine Senior High School on August 24 and 25.
CAST
Another event to watch out for when in Perth is CAST, which will be showcased at the Badlands Bar on October 26 from 7:00pm to 11:00pm. Brought to you by MJR Presents, CAST is comprised of 90's Britpop legends. The 2019 run of their show was originally scheduled in February but due to unforeseen circumstances, it has to be postponed to a later date. Get to witness the band's greatest hits as they bring you back to the 90s.