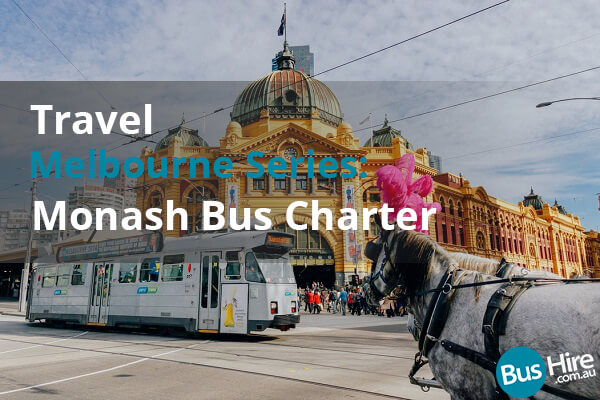 Melbourne is a familiar tourist destination for a lot of people out there. It is the home to great entertainment, as well as a whole lot of other holiday must-try. It is also the seat to the Monash University, one of the most established universities in Victoria and the whole of Australia. If you are looking forward to exploring the university and its nearby attractions, we recommend that you book
bus charter in Monash
. It is a very convenient way to get around the different tourist spots in Monash.
About Monash
Established in 1958, Monash University in Melbourne is the second oldest university in the state of Victoria. It has four campuses in Victoria and another one in Malaysia. It also has learning and teacher centres in different parts of the world particularly in Suzhou in China, Mumbai in India, and Prato in Italy. Many of its courses are also being delivered all over the world including South Africa, among others.
One of the many reasons for you to come and visit Monash University are the attractions that you can explore inside and nearby its location.  In its Caulfield Campus, you will find the Monash University Museum of Art which showcases artworks of the 1500s, including those made by notable artists like Sidney Nolan, Bill Henson, and Arthur Bloyd.
The Caulfield Campus
This is one of the four campuses of the Monash University in Australia. It is located just about nine kilometres away from the CBD and can be reached easily via public transport or bus hire. Around it, you will get to see a lot of tourist attractions, the most notable of which is the St. Kilda. Beaches, cafes and shops are also found nearby.
The Clayton Campus
This campus is the biggest among the Monash University campuses in Australia. This can be found about 20 kilometres on the Melbourne CBD's south-eastern side. Inside the campus alone, you will find plenty of coffee trucks. It is also the cradle for a list of great events all-year round.
The Parkville Campus
The home to Monash University's Faculty of Pharmaceutical Sciences, the Parkville Campus is located closest to the CBD. It can be found right at the heart of the health and biomedical precinct in Melbourne. Surrounding it are some of the best parks that the city is known for. You can also take a walk to the suburbs of Brunswick, Carlton, and Fitzroy from this campus.
The Peninsula Campus
This Monash University campus is considered the third largest among the four. It is located about 40 kilometres from the Melbourne CBD just right on the Mornington Peninsula. The campus has a very relaxing nature which makes it a welcoming retreat for students and visitors alike. It is located close to wineries, national parks, beaches, and restaurants.
Chadstone
Noted as Melbourne's Fashion Capital, Chadstone is located right at the heart of the city and is considered as a global destination for shoppers from all over the world. It is the home to more than 550 stores, guaranteed to offer the best shopping experience when in Melbourne and in Australia. Inside this shopping centre, you will find a variety of stores showcasing anything from street fashion to luxury brands. Designer boutiques are just around the corner as well.
It is also the home to three food precincts of the Dining Terrace, the HOYTS Cinema Complex, and the Legoland Discovery Centre Melbourne. You will also love the artworks that you will find in this shopping complex. Chadstone is open from Thursday to Saturday until 9 pm and on Sunday until 7 pm.
Monash Aquatic and Recreation Centre
Paying a visit to Monash University entitles you to more enjoyable tourist spots around it. One of which is the Monash Aquatic and Recreation Centre, offering a wide range of health and fitness as well as aquatic facilities to visitors. Aquatic facilities include a Learn to Swim Pool and Toddler Play Pools as well as 25 and 50 metre indoor pools. It is also the home to the largest indoor wave pool in Victoria with a size of 40 metres.
For your health and fitness needs, there is a Sauna, Spa and Steam Room in the recreation centre. A hydrotherapy water exercise pool is also part of its list of offerings. You also get to enjoy the wide range of state-of-the-art equipment together with machine and free weights in its cardio fitness centre. Fitness programs are also offered to those who are interested. There are meeting rooms and cafes in this tourist attraction as well.
Monash Gallery of Art
Known as the Home of Australian Photography, the Monash Gallery of Art nearly closed sometime in the 90s in the effort to cut government funding. The support it got from the public was overwhelming back then thus making its closure no longer necessary. From then on, the gallery was expanded and improved to attract more tourists and locals alike.
Today, the gallery prides itself of being the only cultural institution that is able to cater to Australian photography. There are thousands of original photographs inside it, waiting to be praised by visitors. It also plays host to special photo exhibits. You can also visit the gift shop to buy souvenir items. There is no entrance fee but you can donate coins for the maintenance of the art gallery. You can also use the gallery's website to access digital imprints of its art collection.
Jells Park
If you are tired of the hustle and bustle of city life, a visit to Jells Park will be well worth it. It offers walking trails and paths set over nine kilometres of space. Open spaces span a size of 127 hectares where you can enjoy an afternoon barbecue with your group or simply bring around food while you enjoy nature's gift.
When in Jells, you can simply watch the lake views at the Elms, relax under the pine tree or keep yourself busy while looking after your kids who are enjoying the playground. You are allowed to fish on Jetts Lake but only from the two larger jetties. You will also need a valid and certified Recreational Fishing Licence to be able to do so.

With all these wonderful things to see and do when in Monash, you will surely have a great time. Make sure you get Melbourne bus hire for easy access to all these places.