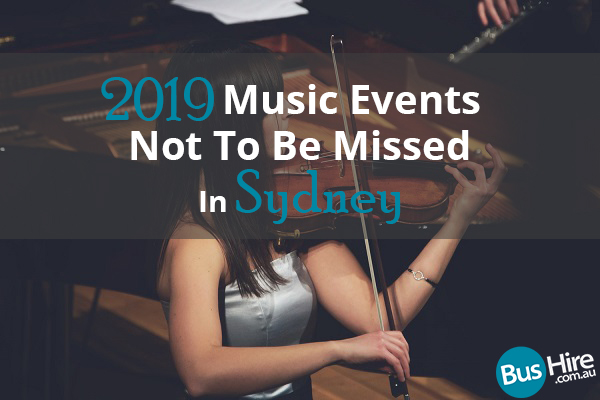 There is a list of endless things to do when in Sydney. Being the capital of New South Wales in Australia, expect a lot of happenings in and around the city this 2019. Amongst them are music events that you should not miss. How can you make sure that you will have a stress-free adventure when getting to the venues for these events? Simply
hire a bus
and you will be at your destination right in time for the festivities!
Claptone: The Masquerade
Book your seats to the most spectacular gathering of veiled faces in the Masquerade as it sets foot once more on Sydney, now slated to be shown at The Warehouse Collective on 6 April, 2019. Known for travelling to different cities all around the world, its first ever event in Australia happened in Melbourne, and was recorded to be the highest in terms of ticket sales. Join in the fun as ushers will give you your masquerade face wear upon entry to the venue.
Yeah Buoy Boat Party
King Street in Wharf, Sydney brings to you an event promoted by the Dress Code, ALLFRIENDS and Univents. Celebrating music along the captivating Sydney Harbour, the event includes five hours of Sydney Cruise, massive vibes, light shows, and huge sound systems. Entry to the party is for free. Make sure you catch it up on March 30, 2019, if you happen to be around town during the said date.
Better Daze
A Marrickville day party, Better Daze is coming to the Inner West of Sydney, at Portugal Community Club, on April 6. Celebrate live music with some of the best DJs in town. Enjoy food and drinks at the food stalls and bars as you reserve seats for you and your group at the ground's picnic tables. Imbibe fresh air with vibrant trees lining the open-air dancefloor. Some of the most anticipated guests are KAIIT, Melbourne's 20-year old soul singer, rising star Françoistunes, and Turquoise Prince.
CUGA Cruise
Starship Aqua and Starship Sydney brings to you the CUGA Cruise on April 12, 2019 at 6:30pm. After record-barking sales in 2018, the CUGA Cruise, via Starship is about to sail you through a memorable night of songs and food. The cruise will specifically sail the Sydney Harbour as you enjoy the musical vibes and bring home with you one of the most unforgettable memories of your lifetime. You will enjoy everything from RnB classic to House Music to the hottest tracks from Greece, the Musical.
ShoreShocked 2019
Happening at St. Leonards Park in North Sydney on April 15, ShoreShocked is a music festival that is free for all ages. It features different acts from all around town plus it will showcase music from battle of the band winners in and around Sydney. An alcohol and drug-free event, Shoreshocked is presented by Ku-Ring-Gai Council, Mosman Council, City of Ride, and North Sydney Council, amongst others. This is part of NSW Youth Week Celebration.
Sounds of Afrobeats Festival
Returning to Greenwood Hotel in Sydney on the 27th of April, Sounds of Afrobeats Festival is the largest of all Afrobeats Festival in Australia. A team of selectors participating in the said event are NAIKI, MARCAIDA, KRISTELLE, OVO, SQUAT, FASMWA, K2THAC, and KIMANI. Take note that tickets to the event are only made available online. There is also a VIP Package that includes priority entry, access to the exclusive bar and VIP area, with guaranteed seats near the Main stage.
Lisa Moore Concert
Celebrate the music coming from one of the best contemporary classical musicians of all time, Lisa Moore, when in Sydney for a holiday. An acclaimed Australian piano player, Moore will be joined on stage by UNSW music students. Experience the music of a pianist who has joined different musicians and artists like the Chamber Music Society of Lincoln Center and the New York City Ballet. This will be held on April 26 at the Robert Webster, Level 3, Room 334 in UNSW Sydney Campus.
Jamie Jones Concert
It has been two years since Hot Creations label boss, and world renowned DJ Jamie Jones returns to Australia. Happening at Home The Venue in Darling Harbour on May 17th at 9 pm, this one-night only event is open to all ticket buyers who want to enjoy and dance to the groove of the different club music played by this famous world act. Learn more about his music, and experience how he has been one of the most iconic DJs recognised around the world.
Bongzilla
Bongzilla is heading to Crowbar Sydney on May 18, 2019 with a show starting at 9 pm. These Stoner Metal Pioneers will bring to you music coming from four of their monolithic albums which they have recorded over the last 25 years. Experience the haze and loud spectacles of this band as the 'Your Mate Bookings', 'Young Henrys' and Get on the Stage brings to you this world-renowned music act.
Boy George Concert
World famous performer Boy George of the popular Culture Club will grace the Ivy Precinct in Sydney on June 29, 2019 at 1:00pm. An in-demand House Music DJ, Boy George has made his mark in the business after he has headlined the likes of Cream, Manumission, and Godskitchen. Brought to you by Rodd Richards Presents, you should not miss on this music event especially if you are a Culture Club or a Boy George Fan, through the years. The venue has a strictly limited capacity. It is best to book for event tickets now.
Liisa Pallandi Concert
Graduating from the Sydney Conservatorium in 2010, Liisa Pallandi is one of the prides of the city. She graduated with First Class Honours, alongside Dr Goetz Richter. After graduating, she became an Emerging Artist with the Australian Chamber Orchestra, and was mentored by Helena Rathbone. After years of playing with other acts, the renowned violinist comes back to Sydney via this concert which will be held on July 5, 2019 at the UNSW Sydney Campus at the Level 3, Room 334 of Robert Webster.