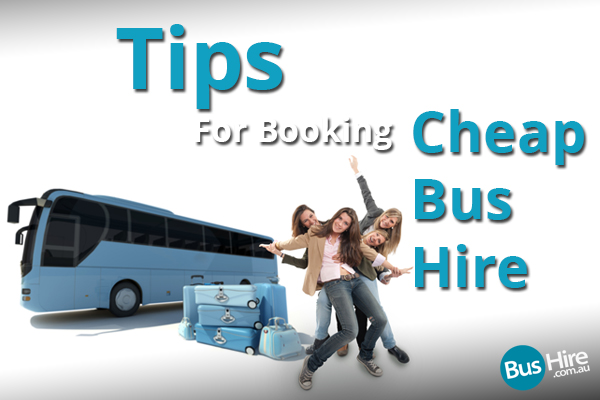 There is a wide variety of options to consider when it comes to group travel. While it may seem easier to consider carpooling or multiple taxis, it is actually easier to consider going somewhere via cheap bus hire. When you travel by bus, you will be able to arrive at your destinations with exceptional ease. What's more, your group can stay together without having any member lost along the way.
Throughout Australia, there are many bus hire providers in this industry. Hence, you must be careful to not just select the first provider you come across. Here are some key tips to help you find affordable yet quality bus hire services.
How to Find Cheap Bus Hire
It is pertinent that you understand all of the costs that come with bus hire. You do not want to end up facing unexpected charges, which may easily arise outside your budget. Although cost is not the only factor, it is still a crucial one. You see, two separate companies that operate in similar capacities, from a customer satisfaction and safety perspective, may actually be charging completely different rates. It is not safe to always assume that expensive buses always mean higher quality whilst cheaper buses provide lower quality. That's not always true. Look at customer reviews first, check their safety credentials, then once you found companies that meet those standards, simply get the cheaper bus because you know you will have a quality trip without breaking the bank.
In today's time, you also need to cultivate the habit of asking how the price of the trip is determined. Is it according to hours or miles? Next, you should proceed to topics such as cancellations, refunds, final payments, and initial deposits. In some cases, you may need to deal with special permits, city taxes, and destination taxes. So, be sure to find out about any add-on costs which may not be part of the bus hire package. This is how you avoid a "surprise" charge.
Never Sacrifice Affordability for Quality
Buses do break down and sadly, these incidents are pretty common. While most times it is something that drivers can't control, it usually comes back to things like preventative vs. deferred maintenance as well as driver behaviour on the road. Before you choose a bus hire, it is important to dive into customer reviews and thoroughly research past customers' experiences. This is one of the most effective ways to know about the quality of service for a majority of these rental firms. In addition, you need to ensure that bus hire companies of interest also expect a certain level of behavioural standards of their customers. Some companies out there tend to let their customers monkey around during a trip, which can easily jeopardize the safety of others.
Today, a bus hire company's fleet may comprise standard coaches, luxury coaches, standard minibuses, people movers, and more. Although many coach buses share similar appearances, they can hold a different number of passengers. A majority of coaches tend to be approximately 50 feet. However, it depends on seat spacing and seating arrangement. Hence, you do not want to end up in an awkward position where you are lacking seats. It is a good practice to confirm that you have sufficient people for a big coach before you have to split the budget fewer ways.
Bus Hire Background Check
Always perform a quick background check of your chosen bus hire providers. For starters, you may ask them how long they have been in business. You can ask to get more information about the executives of the company who make major decisions as well. Next, consider asking professional references from present and past clients who have hire the company for similar types of purposes.
Once you know more about the company itself, it is time to find out more about their drivers. You should understand their drivers' experience as well as the training and licensing they have acquired prior to your hire. If possible, do inquire about any local permits that might be required for your hire, i.e. toll roads, airport, etc. You can enjoy complete peace of mind if you know that both the driver and the equipment they are using have proper licenses to back them up.
Most coach buses typically seat up to 60 passengers and are often subjected to various driving time limitations. That's why it is important that you ask about the vehicles' size, condition, and age. The next step involves you checking whether the driver can complete the trip within a normal work day. Qualified drivers usually drive no more than 10 hours and then stop after 15 hours (if on duty). If you are organizing a long-distance trip, you may need to arrange for relief drivers to legally complete the trip.
Yes, most coaches feature in-vehicle restroom facilities, which make them ideal for long trips. If you are going to have 50 passengers on the same bus, ensuring proper hygienic conditions and cleanliness is of utmost importance. In addition, you should ensure there is plenty of space for trash as well. Since not all buses offer the same amenities, you need to ask specifically if you are looking for something in particular.
A reputable company should have a readily-known, clear, and concise plan in the event of an emergency. You should ensure that such a plan is also available to you. Do not hesitate to let them know how comfortable you are with the way they are handling the matter. When you call a company on the phone, you can test their expertise by allowing them to ask you a few brief questions to understand the purpose and size of your event or trip. From there, get them to make a recommendation to you based on the availability of their fleet.