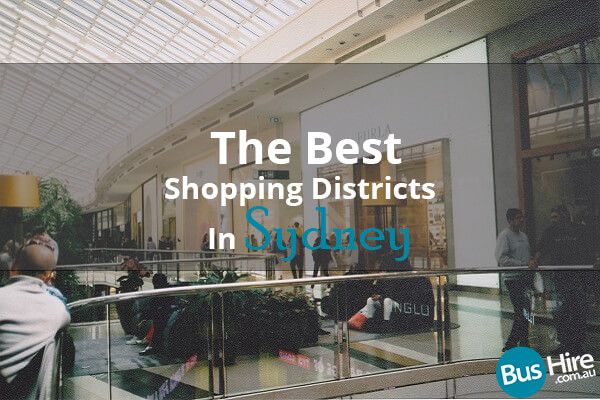 Regarded as one of the largest cities in Australia, Sydney is the home to the Royal Botanic Garden, Sydney Opera House, and a whole lot more of tourist attractions. Apart from all these beautiful sights to behold, you also get the chance to shop for both quirky local products as well as high street boutique goods. Shopping districts in the city offer everything that you need for your retail therapy. Remember to use

bus hire in Sydney
when you want to go shopping with your travel group!
Paddington
This Sydney suburb is one of the most popular shopping areas in the city. It is home to a lot of the best shopping malls that you can ever imagine. One of which is The Intersection, a place for people who have the passion for high-end fashion. Adding to your surprise is the fact that this place has everything you want during a shopping spree. You can walk its footpaths while looking for the item that you want to buy. If you want, you can also breathe in some fresh air while relaxing on a sunny afternoon. Located on the corner of Oxford Street and Glenmore Road, this is the place where celebs do their shopping.
Located about a short walk away from The Intersection is Five Ways. This shop got its name from the five streets that meet at a single roundabout. In here, you will get to see captivating views of the different shops lining the streets. What adds to your delight is you get to glance at some of the most high-end brands including Camilla and Mark, Kym Ellery, and Pallas Couture among others.
Sydney's Central Business District
Lining the streets of Sydney's CBD are some of the most popular shopping buildings you will ever see. One is the QVB or Queen Victoria Building, which is more than a century old building that has become home to a wide variety of retail outlets. This was originally intended to be opened as a local marketplace but now, it has been the site for over a hundred outlets where shoppers – locals and tourists alike – can look for goodies.
Another shopping centre to include in your itinerary if you happen to drop by the CBD is the Centrepoint Tower Westfields, or simply Westfields. This main shopping location is found at the corner of Market Street and the Pitt Street Mall. This building has six floors with about 280 outlets, including food, fashion and lifestyle stalls. Some of the most internationally acclaimed brands like Versace, Christian Louboutin, Gucci, Chanel, and Prada are found in this centre.
Darling Harbour
This shopping district is actually a fusion of everything that a traveller can ever ask for when visiting a new place. The three-storey shopping precinct, Harbourside Shopping Centre, is found in this spot. This centre is home to over 100 retail stores that are sure to provide you with a variety of choices. If you want to enjoy other activities, you can simply visit the bowling alley in the shopping centre or get a taste of the different food that Australia is known for. You can also explore the rest of the Darling Harbour district and find time for other rest and recreation activities. There is the IMAX Theatre, WILDLIFE Sydney Zoo, SEALIFE Sydney Aquarium, and the Australian National Maritime Museum there.
Haymarket
If you are looking for cheaper deals while you are in the city, you can easily find them at the Paddy's Market in Haymarket. You also get the freshest produce this side of Sydney. Having a flea market atmosphere, it easily attracts crowds to come and do some shopping. You will surely love what is available there from the fresh seafood, fruits and vegetables to clothing, souvenirs and jewellery. You might want to get more discounts from your Sydney shopping spree when you are in Paddy's Market. It will be best to visit in the afternoon because by then, you will be able to get impressive discounts for your purchases. You are allowed to haggle with the shopkeepers too.
Also located in this area is the largest Chinatown in Australia. In this area, you will find a variety of shopping options, with the Market City topping the list. Factory outlet stalls, knick knacks and homewares are found in this popular spot. You also get to see the best Asian Supermarket in Sydney when in Chinatown, that is, Thai Kee IGA. The Chinatown Night Market along Dixon Street is also open every Friday starting from four in the afternoon.
The Rocks
This popular historic precinct is also the home to The Rocks Market, where Sydney's artisan creators and market lovers gather every Saturdays and Sundays. Offering an immense variety of products to shoppers out there, you get to buy homewares, food and beverage, as well as arts and crafts items when in the shopping spot. There are also cafes and restaurants surrounding the entire district, apart from the temporary stalls being put up every weekend. You can also pick up the most unique souvenirs from the area. What else can you expect when you visit the Rocks Market? Well, you have the chance to take a photo of the Sydney Opera House which is located just opposite the market.
Glebe
This inner-city suburb in Sydney is the home to the Glebe Market which opens to tourists and locals every Saturday. Considered as one of the famous shopping attractions in the city, this is home to about 200 stalls selling a variety of items to consumers. You get access to original clothing brands as well as second-hand items when you are in this spot. You can also buy records, jewellery, books, and arts and crafts in this shopping area. Also known as one of the top vintage markets in Sydney, this is a popular stop off for shoppers who want to buy retro accessories and clothing. Multicultural food stalls are also found in the area. If you are lucky during your visit, you also get the chance to witness musical entertainment in the Glebe Market!