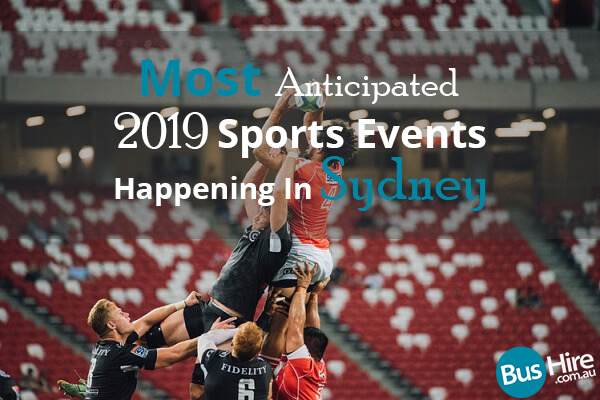 Sydney 's 2019 sporting calendar is filled with thrill-a-minute action. Whether you enjoy golf, surfing, sailing, motorsports, thoroughbred racing, rugby, football, field hockey, or cricket, consider
bus hire in Sydney
to bring you to and from your chosen event. Sydney hosts the best Australian competitors, from Super Netball and the W League, all the way to the MBL, Super Rugby, AFL, and NRL.… and everything in between. When it comes to world sporting events, Sydney frequently comes up as a popular location. Let's look at what's going on in the Sydney sporting world in 2019.
Blackmore's Sydney Running Festival
On September 15, at Sydney Harbour Bridge, the Blackmore's Sydney Running Festival takes place. In all of Australia, this is one of the most spectacular and scenic courses. Annually, somewhere around 33,000 people participate. In some 23 years, this was the first Australian marathon to be broadcast live, starting in 2013. The IAAF (International Association of Athletics Federation) awarded the Gold Label to the Sydney marathon in 2014, thereby attracting increasing local and international athletes as a result.
All crossing the Sydney Harbour Bridge, four exciting events make up the Blackmore's Sydney Running Festival. The events are as follows: Family Fun Run, Bridge Run, Half Marathon, and The Marathon.
Walkers, joggers, and runners of various ages and skill levels can experience a fun but challenging day when they venture out to explore the accompanying Sydney scenic views during the festival run.
ANZ Stadium's State of Origin
On July 10, at Sydney Olympic Park, the state of origin, ANZ Stadium event is scheduled. Three State of Origin games will be played in Australia this year, with the July 10th game kick-off scheduled for 8 PM.
Other games taking place in Australia are as follows:
6 PM kick-off on July 23rd at Optus Stadium in Perth for Game 2

8 PM kick-off hosted at Brisbane on June 5th for Game 1  
Though the games will in all likelihood be broadcast live on radio and TV, there's nothing like attending in person! It is expected that the number of TV of viewers this year will absolutely eclipse viewing records from previous years, but wouldn't you rather be in the crowd in front of a television set?
Australian Athletic Championships
Scheduled at Sydney Olympic Park, the Australian Athletic Championships will be taking place. Competing in this year's Junior and Open Aged Championships will be over 3500 field and track athletes of various ages beginning on April 1st and lasting through April 7th. Para-athletes and able-bodied athletes compete in these events.
In the entire Oceania-Pacific and Australian region, this is the largest annual athletics event in terms of celebration, whole of sport engagement, participation, and sporting endeavour.
During March 15th through the 17th, the Domain Athletics Centre in Hobart Tasmania, will host the combined event championships.
April 1st through the 7th, held with the 2019 Australian Athletics Championships in Sydney, will be the Under 20 and Open Combined Event championships.
Sydney International Rowing Regatta – AON
The Rowing Regatta will take place from March 25 through the 31st in Penrit. It is the largest rowing event in Australia. Some of the best rowers in the world compete in events numbering no less than 100 in this weeklong regatta. Included will be the Kings and Queens Cups Interstate Regatta, Australian Open Schools Rowing Championships, and the Australian Open Rowing Championships. Also featured will be military flyovers, exhibition displays, and other celebrations for the Centenary of the Kings Cup.
Longines Golden Slipper Day
On March 23, at Rose Hill Gardens racecourse, horseracing aficionados will do a little racing of their own – to their seats to catch the action!
Imagine what a thrill it would be to visit the site of such a pinnacle event in Sydney! Here, you can participate in one of Group 1 Racing's biggest days, cheering home a winner. This is the home of an AUG3.5 million purse – the richest race for two-year-olds in the world.
And this year, there is something extra special planned: after the last race, a live concert will be played by Australian rock legend Jimmy Barnes.
But wait, there's more. Hospitality packages are available with which to enhance your race day experience!
Hockeyroos and Kookaburras
Beginning March 2, at Sydney Olympic Park, the FIH Pro League begins play. The Hockeyroos (women's field hockey team) will go up against the USA and the Kookaburras (men's field hockey team) will face-off with Spain. On a weekly basis, nine of the world's best teams will, in fact, be facing off.
Gates open at 2 PM and tickets are $10 for children and $30 for adults.
Rolex Sydney Hobart Yacht Race
Conducted on the waters of Sydney Harbour, the Derwent River, Storm Bay, and the Tasman Sea, the yacht race has become an Australian summer sport icon. On Thursday, December 26 of this year, an event that ranks right up there with Australia versus England cricket tests, Davis Cup tennis, and the Melbourne Cup horserace will kick-off. Sydney Harbour's starting g point will see more media coverage than any annual yachting event in the world.
Participants vary from weekend racers all the way to maxi yachts in the race which, after beginning from Sydney Harbour's Nielsen Park, stretches out for 628 nautical miles. Derwent River, Hobart is the location of the eventual finish line.
Remember that your best bet for safe, stress-free travel back and forth to major and minor sporting events is to take advantage of professional bus hire in Sydney. Traffic patterns, shortcuts, routing layouts, and more are common knowledge for drivers from the area. As a tourist, one mistake after another can lead to your being late for your favourite events. And if you consume alcohol at any of these events, hiring a professional driver is just good sense. While attending your chosen sporting venue in Sydney, make sure to enjoy yourself and stay safe.