The biggest air access point in Queensland, the Brisbane international airport is 3rd busiest airport in Australia after Sydney and Melbourne. It receives millions of international passengers (22 million in 2014 to be exact, which was also their 'busiest year' on record) and it operates 24 hours a day, last year it was declared by the Australian Competition and Consumer Commission (ACCC) as the best airport for overall Quality of service.
You, just like many millions more, might find yourself arriving at this modern and efficient airport. We wanted to create a useful guide that will allow you to get a quick overview of the main points f interest, services offered and other important information all travelers should know. Let begin our list with a description of the main 2 zones, the arrivals and departure areas:)
Contact Details and Address
Brisbane Airport Corporation
11 The Circuit
Brisbane Airport QLD 4008
PO Box 61
Hamilton Central 4007
Telephone: +61 7 3406 3000 (General inquiries and information)
Find all the airlines contact numbers at the Brisbane Airport in Queensland in case you need to talk to their representatives directly.
Brisbane International Airport Terminal information
Each of the two main terminals (Domestic and International) each have a level for departures and arrivals respectively. Each of these levels will have slightly different shops available, for your convenience I will attach each of these level's maps showing the particular shops in each of them. As an extra piece of useful information, you can rest assured that transit times between the domestic and international areas is rather quick thanks to the short 15 minute intervals in the inter-terminal train service, so you shouldn't worry too much about missing your plane when changing terminals.
If you want to gain access to the full range of maps for all the levels and zones (including the parking areas at the airport) you can always check out the Brisbane Airport official maps page which is where I got all the maps that will follow…
Brisbane Airport Domestic Terminal – Departures (Level 2)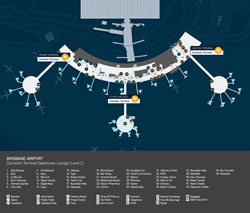 Brisbane Airport Domestic Terminal – Arrivals (Level 1)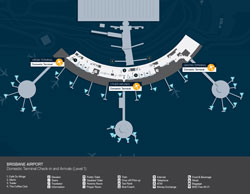 Brisbane Airport International-Terminal—Arrivals-(Level-2)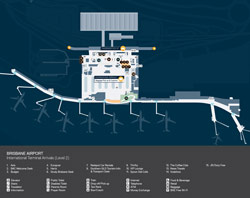 Brisbane Airport  International-Terminal—Departures-(Level-4)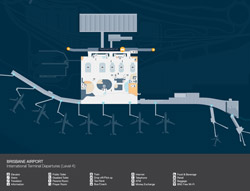 Services available
Transportation
Being the estate of the art airport it is, the Brisbane airport offers visitors a range of options when it comes to traveling in and out of it's grounds. Also, keep in mind that because the business center of the city is located a mere 13km from the airport, it won't take you more than 20 minutes to reach downtown Brisbane. Let's take a good look at your transportation options:
Minibus Charter
Well of course! Why not leave all the worries to us? Book your airport transfer with Bushire Brisbane  and we'll take care of everything. Once you arrive, our professional drivers will be waiting for you and ready to escort you to your private minibus. There truly isn't a better way to arrive in Brisbane city.
Public transport (train and bus)
You can catch either the bus or the train which will take you directly into Brisbane city. Though possibly the slowest method to get into the city, you will certainly save some money by opting to take the public transport. You can catch the bus and see your other transport options by reaching the 'Public Waiting Area'
Taxi
Quite possibly the fastest way to reach the city, you can catch this service at them main passenger meeting point (the 'Public Waiting Area' mentioned in the point above) as you are about to exit the airport. Do be aware of the fact fares are rather high, meaning this way of transport could also become the most expensive option you.
Cycling Network
Well, Australians are well known for their love of sports, so your shouldn't be surprised at all to find out the Brisbane Airport has cycling and pedestrian connections connecting to the Moreton Bay Bikeway network for those more adventurous/active types.
Shops & Restaurants
There's certainly an advantage to be stuck for a couple extra hours waiting for your plane to take off: it's shopping time! You will be slightly spoiled for choice at the Brisbane airport as both the domestic and departures areas enjoy a healthy mix of shops, everything from clothing to electronics, you will not have too hard of a time making your time fly as you skillfully migrate from shop to shop.
On a similar note, there are plenty of restaurants, cafes and shops where you can grab a bite to eat in case you didn't have the time before arriving. To be fair, is always better to be able to have a nice relaxed meal knowing you have already made it on time! If you truly want to plan ahead and see what specific food options you have once at the airport you can always check the official listing of all shops and restaurants at the Brisbane international Airport
Lounge rooms
Here are some of the main airline lounges available for visitors at the Brisbane Airport, please follow the link on each of the lounges names to find out further details such as pricing, mapped locations and restrictions
Virgin Australia Lounge – Location: Domestic Terminal, Airside, Opposite Gate 41. Lounge Access: Pay at the Door (AUD 65) • Virgin Australia Membership.
Qantas Club – Location: Domestic Terminal, Airside, Departure Level 1, near Gate 22. Lounge Access: Qantas Club Membership.
Air New Zealand International Lounge – Location: Airside, International Departures. Lounge Access: Pay at the Door (NZD 55/85) • Air New Zealand Koru Club Membership.
Skygate shopping complex
In case you were wondering about what to do while waiting for flights to arrive, why not pop over Skygate and enjoy shopping and browsing around the multiple shops that are set up here. From a 24hr Woolsworth supermarket to beauty saloon and clothes stores, you will even be able to find a state of the art golf complex that expands 17 hectares and includes an 18-hole mini golf course as-well as an impressive 50 bay-floodlit driving range.
Here's a map of the Skygate complex
Hotels:
As it is common around areas located near an airport, there's quite the diversity of hotels, ranging from cheaper motels to more business hotels like the modern Novotel located right outside the main airport building. You can check the Google map below with the main hotels, motels and guesthouses near the Brisbane Airport:
A little story of the latest developments at the airport: