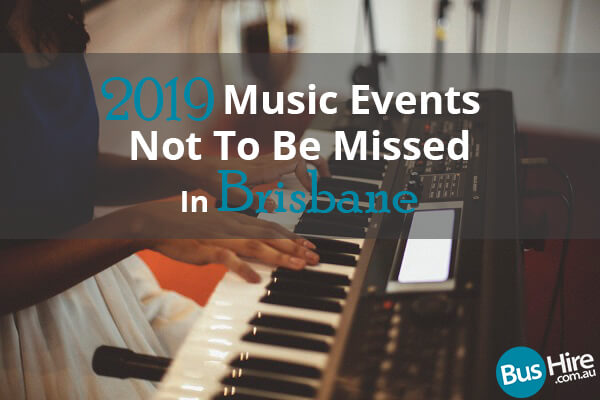 A holiday spent in Brisbane is expected to be stress-free. After all, holidays are made to make you enjoy every moment. It is time to forget about work and all other duties that you have. Have fun and relish every moment of your holiday experience. One great way to de-stress is through attending music events this 2019. Want to make the entire experience even more enjoyable? Use
cheap rental buses
and you will be able to get to your destination economically!
Lucy Dacus Live
Jet Black Cat Music and Mistletone presents Lucy Dacus live at the Black Bear Lodge on March 28, 2019. Declared as one of the most promising new voices in the world of rock music in 2016, after the release of her debut "No Burden". This year, she is more than ready to perform her tracks coming from the album "Historian". The show is open for mature audiences, 18 years old and above.
Minden 4th Live Music Festival
A perfect weekend getaway for everyone who is on a holiday, the Minden Live Music Festival will be happening on March 29 to April 1. Minden Retreat accommodations are available for everyone who is attending the three-day event, but of course, with a price. This will showcase five bands and will also present a Glam & Rock Show that has a 70's Theme Party. You can choose to attend all of these festivities or stay in your cosy rooms for the rest of the day, depending on your mood.
Yung Gravy's Australian Tour
With sold out tour all across North America, internet sensation Yung Gravy is coming to Australia this April to showcase his talent to the Australian crowd. This guy has collaborated with the likes of Lil Baby, Ugly God, and Dram, and has built a solid set of followers throughout his career. He will also be playing in New Zealand after his shows in Australia. The Brisbane leg of his show will be held at The Valley Drive In on April 6, 2019 from 8:00pm to 11:00 pm. This is open to those who are 18 years old and above.
The Story So Far & Basement
If you think this is a musical play, think again. This is actually a showcase of talents from the Californian rockers forming the group called "The Story So Far", and the UK band "Basement." Happening at "The Valley Drive In" on April 18, 2019 from 7:30pm to 11:00pm. Apart from Brisbane, they will be hitting other key cities in Australia for the entire month of April. Captivating the hearts of audiences from Europe, UK, and North America, this is a must-see event for locals and tourists alike.
Yamaha Australian National Band Championships
Happening at the Brisbane City Hall on April 19, 2019, this event is being brought to you by the Queensland Band Association. Tickets for band events and the concert can be purchased from $15 to $90. Official merchandise can also be bought during the competition days. You can witness the event as part of the audience.
Ruby Fields Permanent Hermit Tour
Since her debut EP entitled 'Your Dad's Opinion For Dinner', Ruby Fields has already attracted a strong set of followers. The Permanent Hermit EP comes next after this, which will be part of the Sydney wonder's tour all over Australia. Happening at The Brightside Brisbane on May 16 to 17, 2019, expect a show like no other. Fields had partnered with Plus 1 so that $1 dollar from each ticket sale will go to organisations that need funds the most. Watch out for her other shows which will happen in Newcastle, Sydney, Melbourne, and Adelaide, amongst others.
For You Love Tour from Montaigne
Montaigne, an ARIA Award winning Sydney Artist, will be having a show at The Brightside Brisbane on April 27, 2019 from 8:00pm to 11:00pm. Also partnering with Plus1, like Ruby Fields, a dollar from each ticket sale of her concert will go to the national organisation LGBTIQ youth, Minus18. With the purpose to support those who have been bashed for transphobia, biphobia, and homophobia, Montaigne will be performing her single "For Your Love" and a whole lot of other hits during this concert. This is part of her Australian tour which will start at Sydney Factory Theatre on April 11, ending up on the Gold Coast on the 28th of the said month.
Good Doogs National Tour
The Brightside Brisbane will be showcasing the talents of the Good Doogs as part of its Australian tour on June 15, 2019 from 8:00pm to 11:00pm. Releasing three successful singles in 2018 namely, "So Dumb", "Nothing To Do", and "Want That", the group hopes to have the same success for this year. The tour is in promotion of the group's newest single "Nobody/Alone" which creatively tells a story about one's struggles in life and having the courage to get out of the house even when there is hesitation on that person's part. Tickets start at A$17.48.
Daniel Champagne The Satellite City Tour
Touring around the world for eight years, Daniel Champagne is from Brogo in New South Wales. This year, he has The Satellite City Tour to offer to his avid fans. Brisbane followers of Champagne will get to witness his talent at Black Bear Lodge on July 4, 2019 from 8:00pm to 11:00pm. Famous for his beautifully-crafted melodies which he sings while playing his guitar, this act is a must-see when in Brisbane. The show is open for people 18 years of age and above.
A Night With David Helfgott
Stamford Plaza Brisbane will open its doors at 7:30pm on August 31, 2019 to anticipate the number of fans coming in to witness the talent of classical pianist, David Helfgott. With the elegant and intimate setting, you can experience his performance up close, whilst you enjoy a spectacular evening of instrumental music. He will be performing many of the well-loved piano pieces that made a mark in his international career. He will also play classics from romanticists Chopin and Lizst. Drinks and canapes will be served throughout the night from 7:00pm, before the doors open.