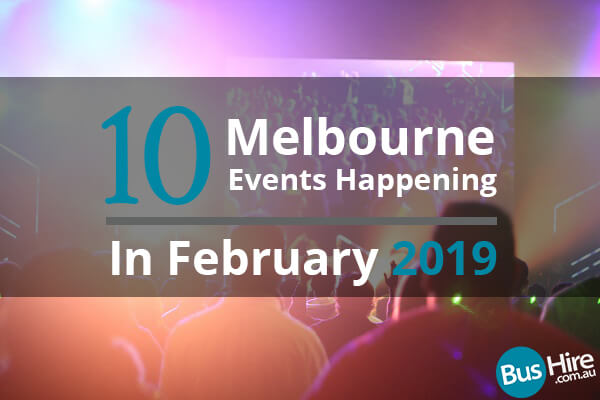 Melbourne, like all big cities, has a vibrant event scene to cater for all kind of tastes and preferences. From music events to stand-up comedy, February 2019 is packed with events all across the city that will entertain you, educate you or just simply wow you. To get across Melbourne City, consider the smart option of
bus hire in Melbourne
to get you and your friends to all these events and more.
Sweet Summer Vibes at HWKR
HWKR brings the culinary delights from the Asian continent to Melbourne. Running up to the 28th of February at the HWKR, the sweet summer event brings together delightful food by several food vendors such as Junior Tan, Kungfu Burgers, Scoopy and HS cakes. Be sure to attend this event for great treats and drinks from all over the Asian continent.
Melbourne Japanese Summer Festival
Taking place at the Federation Square in February, the Melbourne Japanese Summer Festival brings together food, games, music and dance from Japan. The music ranges from traditional Taiko drumming to more contemporary songs and dance from Japanese artists. Drinks include traditional Japanese wines and beers that will be available on sale in stalls that line the venue. There will also be plenty of arts and crafts if you want to take away a piece of the festival with you. The Melbourne Japanese Summer Festival runs on the 24th of February 2019 and is a free event.
Victorian Caravan, Camping and Touring Supershow
The Victorian Caravan, Camping and Touring show is the biggest caravan trade event in the state of Victoria. It takes place at the Melbourne Show Grounds and will run from the 20th to the 25th of February 2019. Featuring music, live performances, interactive games and face-painting for the kids, the Supershow is a great place to learn about the latest in motorhomes, recreational vehicles and caravans. This year's event features a special area for dog lovers as well as evening events designed to allow people who are at work during the day to attend events at the show. If the outdoor is of interest to you, make sure to visit this event and enjoy the latest in outdoor gear and camping facilities.
Sunset Series: The Tan
This is a running/walking event where participants get to sample great sights all across Melbourne while on the move. Destinations along the track include the Botanic Gardens among other iconic sights in the city. Once the run is done, participants can relax with great food and drinks and enjoy music performances in the setting sun. This is an event that is perfect for tourists who are looking to stay active all the while enjoying the sights, sounds and tastes of Melbourne City.
Ultra Australia
Ultra Australia is one of the premier music festivals in Australia and features amazing stage designs and performance that are sure to keep you and your friend entertained. This year's event features multiple stages and an incredible variety of food and drinks that are sure to tantalize your taste buds. This unmissable event takes place at the Flemington Racecourse and will run from 12 pm to 10 pm on the 23rd of February.
Moving Melbourne: Cities Don't Stand Still
Moving Melbourne is a photo exhibition that is organized by the Public Record Office of Victoria. The exhibition is a celebration of Melbourne City and its constant state of motion and activity. This ranges from protesters in the streets to early morning traffic of people trying to make their way to work. The photos on display will include both contemporary photos as well as historical ones. Moving Melbourne Exhibition will take place at the Victoria Archival Centre and will be on till the month of April. The event is a free one and no prior booking is required.
Therapeutic Yoga for Flexibility and Strength
Are you looking for a wellness event in the City of Melbourne in the month of February? The Therapeutic Yoga for Flexibility and Strength event will feature classes and workshops. Participants will also get a free goodie pack as part of the session. The event runs at the Viva Physiotherapy on Thursday the 14th of February between 7 pm and 8.30 pm.
CoderDojo Carlton
CoderDojo Carlton is designed to get kids to fall in love with coding. The event is run by volunteers and kids get to learn various aspects of IT such as creating websites, computer programs and games. This is done in an informal and creative environment that is designed to be fun and engaging for kids. Please note that parents and guardians must be in attendance together with their kids. CoderDojo Carlton takes place at the Kathleen Syme library and Community Centre all Thursdays between 4.30 pm and 6 pm.
Behind 5 Doors: Art Walking Tours
The Behind 5 Door Studio event gives visitors a glimpse into the world of the arts and the artists who live in it. Visitors also get to watch artwork being created live by a variety of artists and also a chance to engage them over a drink at the local café. This is a great event for visitors who have a particular love for visual arts and who would like to discover the local art scene in the city. The event takes place at Federation Square on Wednesdays through to Saturdays between 11 am and 1 pm.
Matched Speed Dating
For those looking to fire up their love lives while in Melbourne, the matched Speed Dating event is the place you want to be. The matches are done through a combination of cloud-based matching and speed dating events to create an unforgettable experience. Throw in free drinks and biting and this is an event that you dare not miss. The matched speed dating event takes place at CitySwoon and ticket prices range between $49 to $89 every Wednesday through to Saturday between 7 pm and 10 pm.
As you can see, Melbourne is jam-packed with events this February to cater for all tastes. Whether you are looking to dance the night away, enjoy some fresh Sushi or learn how to code, there is something for you and your family this month in the City of Melbourne.