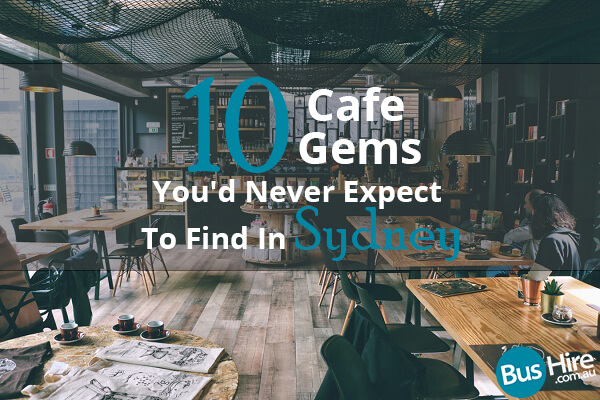 Australia is home to one of the largest coffee consumers in the world. In Sydney, we do not simply mention that there is a unique coffee culture. The correct way to put it is: Sydney has a huge coffee cult – in a good way. The city boasts well-educated coffee devotees as well as roasters and coffee houses. With that in mind, an easy way to café-hop is to take advantage of
bus hire in Sydney
. Now, let's find out where those café gems are located at:
Berkelouw Cafe 1812
Give me the address: Level One, Berkelouw Books 19 Oxford Street, Paddington, Sydney
If you are an avid reader and want to escape from the chatter of many and the blaring of car horns, Berkelouw Cafe 1812 perfectly suits you. The café features an extensive selection of books. You can pick up and read whenever you like. That's why it is so easy to lose track of time here. The food fare here is nothing short of spectacular. For example, you can fuel up with their Berkelouw Eggs Special.
Suzie Q Coffee and Records
Give me the address: 1/18 Hutchinson Street, Surry Hills, Sydney, Australia 2010
Suzie Q Coffee and Records is a cafe that resonates with anyone who is a culture vulture at heart. It is home to a wide selection of vinyl records and good old classics. What's more, the music in the café is curated by the staff. If you arrive with an empty stomach, it is recommended that you try their Jerk chicken salad. It comes with coriander, pineapple, chilli, lime, cabbage, and corn. This appetizing combination will leave you drooling in no time. Great food, great coffee, and great music. This is a café where you can completely kick back, relax and enjoy.
The Treehouse
Give me the address: 60 Miller Street, North Sydney NSW 2060
A tree house café situated in the heart of North Sydney? For real? While the café might not be built in the canopy of a tree, its interior certainly adopts a forest theme. The owner of the place aims to provide an oasis for people to enjoy an experience that's slightly out of the norm. As the interior of the café is surrounded by leafy plants and vines at every corner, you will feel like you are really in a tree house. What can you eat here? Your choices include top quality seafood, pork cutlets, and fine grass-fed steaks. If you are a vegetarian, you will love The Treehouse's signature handmade spinach.
Will & Co Culture of Coffee
Give me the address: 33 Hall Street, Bondi Beach NSW 2026
Do you have a knack for good design and aesthetics? You will love your time at Will & Co Culture of Coffee. The interior of the café features mural illustrations and they may be the inspiration you need before embarking on your next big project. Next, the café serves up stellar latte drinks. They are a classical fave for many coffee aficionados. That's not all. Customers can chill at the rooftop with a cuppa and muse at the horizon and the crystal blue skies.
Angel Café Bar
Give me the address: 10 Angel Place, Sydney NSW 2000
Angel Café Bar is a modest-size café that serves reasonably priced food. It is a pleasant surprise to find an establishment that does this even though it is located in a prime location. Both breakfast and lunch menus are available here and the bar offers a decent selection of spirits, wines, and beers. You can even custom make your own sandwich here! Comes with a free drink too. The eye fillet of beef is a heartier alternative and offers a more authentic dine-in experience.
Bread and Circus
Give me the address: 21 Fountain Street, Alexandria NSW 2015
As Bread and Circus is a café that places a huge emphasis on fresh produce, their menu changes on a daily basis. It goes without saying that you can also find the freshest salads and sandwiches here. If you are a person who enjoys surprises, you should definitely try out their Daily Plate. It never fails to serve up an eclectic mix of wholefood goodness and is guaranteed to bring satisfaction, no matter what's on the menu that day.
Upperroom Restocafé
Give me the address: 220 Pitt Street, NSW 2000
Only a few Sydneysiders know about the café that's hidden behind the walls of Wesley Conference Centre – Upperroom Restocafé. If you want to take a break from the hustle and bustle of the CBD, Upperroom Restocafé is a stellar place for you to unwind and savour great coffee and food. If you prefer having a Western breakfast, you can never go wrong with the Upperroom Big Breakfast. However, the café also draws on Malaysian and Indonesian cuisine, such as Beef Rendang and Hainanese Chicken Rice. The former refers to a type of Asian braised beef that is served with steamed rice.
White Rabbit Teahouse
Give me the address: White Rabbit Gallery, 30 Balfour Street, Chippendale NSW 2008
The White Rabbit Teahouse offers a cosy ambience for café-goers to relax and enjoy some good drinks and bites. The café is also home to a stellar array of contemporary Chinese art collections. If you are a tea-drinker, you will be impressed by the café's high-quality tea selection. It ranges from the finest Taiwanese to Chinese teas. So if you like iced tea, flower tea, white tea, and oolong tea, be sure to drop by. Next, you can satisfy your food cravings with a plate of fresh handmade dumplings.
Brasserie Bread
Give me the address: 1737 Botany Road, Banksmeadow NSW 2019
Located in an industrial area, Brasserie Bread is home to Sydney's finest cafés and bakeries. What's more, it houses an in-house bakery that bakes fresh breads daily. Dishes such as their flavourful Mirrool Creek lamb are bound to satisfy your taste buds. Another signature dish is their sourdough pancakes. They are topped with coconut yoghurt, grilled banana, vanilla syrup, and more. Can't get enough of their breads? Head over to the section near the counter. They sell jars of homemade spreads as well as the freshest and finest breads.
The Incinerator Café
Give me the address: 2 Small St, Willoughby NSW 2068
Before the café was built, the building used to house a functioning incinerator in the 1930s. Hence, the café has a spacious interior, a rustic theme, and features a high roof. Coffee lovers will love the fact that the coffee served here comes from the Grounds Roasters in Alexandria. As seasonal produces are used, the menu changes pretty often but the quality of the food is guaranteed. A hearty recommendation is their sweet potato rosti. The dish comes with a side of pork sausages as well as beetroot relish, egg, and haloumi. Got a sweet tooth? You'd better satisfy those cravings with their famous Tim Tam chocolate shake.