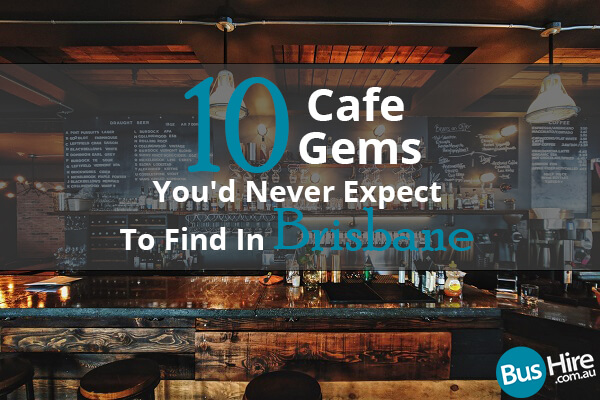 Are cafés just commercial establishments that allow you to get a hot cup of coffee and a quick bite of brunch? Well, in Brisbane, cafés are more than that. They are a community hub, a meeting place, and a temporary escape pod that allows you to hide from the manic world that you live in. If you love hanging out in cafés, you will be pleased that Brisbane is flush with stellar cafés. There is no shortage of them! When you are planning your trip, make travelling easier with
bus charter in Brisbane
. Without further ado, let's find out which café you should drop by first:
Billykart Kitchen
Where: 2 Edmondstone Street South Brisbane, QLD, 4101, Australia
Chef Ben O'Donoghue and his business partner, Ben Roberts, tag teamed to set up Billykart West End. The cafe, bar, and restaurant doesn't rest on its laurels. They offer a seasonal menu that changes regularly so that customers will never get bored. What's more, the changing menus are accompanied by a wide selection of boutique beverages. Billykart Kitchen has a flair for fresh, bistro-style dishes. One of their must-try dishes include their Aussie Asian eggs and crispy corn fritters. Billykart Kitchen is undoubtedly a worthwhile choice. You can even book them to host private events.
Lady Marmalade
Where: Shop A, 269 Logan Road, Stones Corner, Brisbane
Lady Marmalade was established in 2010 and the cafe's owners are Howard and Sonja Searle. The establishment offers all-day breakfast, lunch, and doubles as a private function venue. Lady Marmalade is home to a well-stocked bar and offers exceptional coffee from Elixir, a local roaster. After renovating its Stones Corner location, the café debuted a stellar new-look. The new space boasts a larger kitchen. Now, both newcomers and loyal fans have ample space to move around. You can expect the sizeable kitchen to pump out scrumptious dishes.
Crema and Cream
Where: 20 Minimine Street, Stafford, Brisbane QLD 4053
If you are visiting Stafford, there is no excuse for you to not sample Crema and Cream's infamous Mars bar cheesecake. The café is home to stellar coffee and sugary delights. Their coffee is a robust, five-bean house blend and is prepared by barista Ron. He is also known as the Master of the Coffee Machine. Grace, on the other hand, is the café's dessert chef. She is an expert at creating sugary treats. Crema and Cream's cake cabinet showcases white chocolate muffins, overflowing raspberry muffins, and red velvet cakes to name a few. Crema and Cream is also one of the best cafés to drop by for breakfast.
The Gunshop Café
Where: 53 Mollison St, West End QLD 4101, Australia
West End locals have praised The Gunshop Café for providing a home away from home experience. Located at Mollison Street, this café has been doing amazing work for what seems like ages. Their dishes are often prepared with freshly sourced ingredients. Herb-crumbed lamb brains, gingerbread pancakes, green eggs and ham, apple and sage sausage, pork, potato and fetta hash cakes, etc., are some of their well-known creations.
End of the Road Coffee
Where: 1231A Brunswick St, New Farm QLD 4005, Australia
End of the Road Coffee is a café that is serious about coffee. The award-winning café in New Farm uses coffee beans from South and Central America. The beans are also roasted by West End's The Coffee Roasters. As the café also resides in a disused bus depot, next to a ferry terminal, they make it easy for locals to get their daily caffeine fix.
Betty's Espresso Cafe & Bar
Where: 11 Browning Street, South Brisbane QLD 4101, Australia
Have you considered diverging from the main West End strip before? You should! You will find a unique café that is housed in a quaint West End worker's cottage. The café is home to an irresistible mix of experimental baked goods, nostalgic décor, and a stellar coffee. Looking at the name, you should already know that espresso is Betty's jam. Apart from Betty's signature selection of coffee, they make milkshakes too, e.g. gingerbread shake. If you are looking for some daytime bites, you can check out their muffins, wraps, sandwiches, and toasties.
Dramanti Artisan Roasters
Where: 94 Tingal Rd, Wynnum QLD 4178, Australia
Are you looking for a café that roasts its own brew on-site? Look no further than Dramanti Artisan Roasters. The wonderful café introduces high-end coffee culture to Wynnum. The café is owned by Dragan Sestic and his cosy industrial shed allows customers to enjoy a coffee straight from the roastery. It is neatly housed in the corner of the café.
Soul & Sun
Where: 479 Waterworks Road, Brisbane, Queensland, Australia 4060
Soul & Sun is a cracking Brisbane café located in Ashgrove. Built and decorated to resemble a Persian bazaar, the café never fails to impress its customers, in terms of their cultural factor and the cuisine they prepare. Their menu features East-West fusions like Moroccan chicken pie, as well as Turkish sweets and Cardamom tea that make excellent post-lunch treats. What's more, Soul & Sun sells handmade rugs from the Middle East!
The Odyssey Project
Where: 55 Douglas St, Milton QLD 4064, Australia
The Odyssey Project is a Milton coffee roaster and espresso bar that certainly lives up to its name. The café's South + Central blend is roasted in-house. Your cup of joe will even be poured from a La Marzocco Strada. It's pretty epic and delicious. Fully decked out in a stripped back warehouse, the cozy atmosphere will make you stay for hours. You can be 100% confident that the coffee here is great. It is well-balanced, aromatic, sweet, and packs a punch. You can even get a silky-smooth texture by adding milk. To keep your palate occupied, consider ordering their bacon and maple syrup waffles on Fridays or chocolate fudge brownies!
Cambridge Lane Espresso
Where: 3/61 Cambridge Parade, Manly, Queensland 4179
Heading out to The Bay and have yet to get your daily caffeine fix? Cambridge Lane Espresso is calling. You can find the café by venturing down the laneway off Cambridge Parade. You will be greeted by brightly coloured tables that are strewn outdoors. Coffee, checked; Vitamin D intake, checked. If it rains, don't worry. There is a cute indoor nook that provides some shelter.